Top 3 skin care tips I learned from an organic makeup artist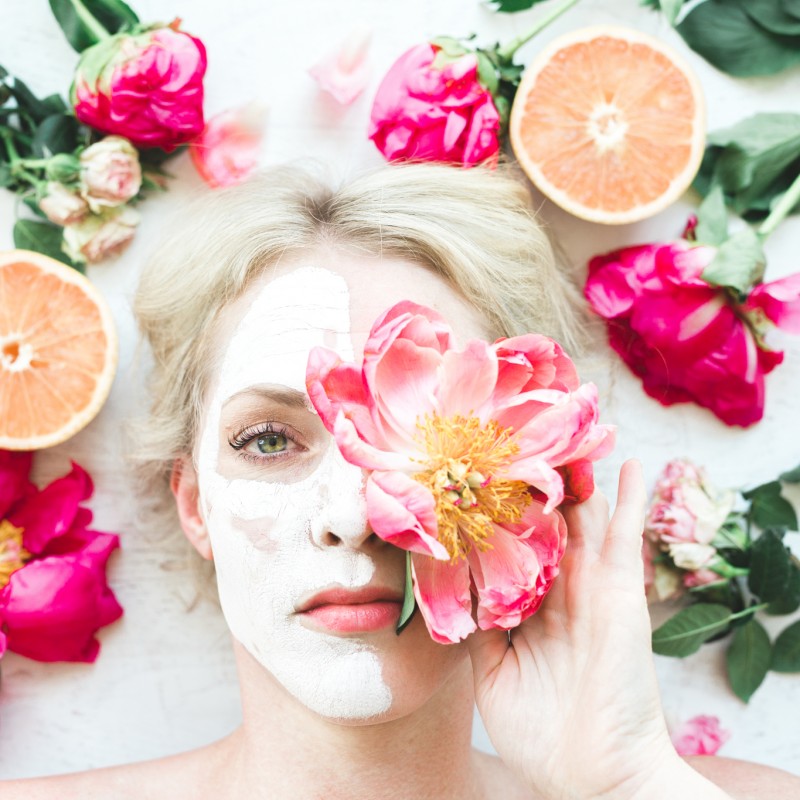 While living in Toronto, Canada, I attended a 6-hour workshop on Holistic Skin Care taught by Carley Simand, RHN. Carley is a professional makeup artist, turned holistic nutritionist, who later combined her two passions into educating others on the benefits of holistic skin care and organic makeup.
A lot of great information was shared during this workshop but I'm going to shorten your time commitment and give you the top 3 things I learned, and still practice, almost eight years later…
1. Skip the expensive beauty creams and use essential oils instead.
Most popular beauty brands market moisturizers and other miracle creams that contain ingredients like propylene, silicone, parabens, parfume, mineral oil, petroleum, and so on. These types of ingredients are actually toxic and can get absorbed into your blood stream through your skin. By the way, unwanted toxins in the body won't make you look any younger!
Instead, try using one of the essential oil combinations listed below before you go to bed at night (after washing your face of course). You can purchase these oils at most health food stores and online. Look for organic, cold pressed oils.
Start with 5-10 drops of a carrier oil (choose one):
Jojoba oil – similar to natural sebum (oil) we produce in our skin.
Wheat germ oil – a highly transdermal oil that can penetrate all layers of skin and will carry any other oil with it.
Add 3-5 drops of essential oil (choose one or more):
Lavender – calming, soothes irritations, hydrating
Lemon – oily/greasy skin, tones, energizing
Sea Buckthorn – acne, rosacea, eczema, psoriasis
Argon – (aka Moroccan oil) deep moisture
Of course there are many other oils with amazing benefits! These are just a few of my personal favorites and I often change the oils I'm using based on the current need of my skin. Sometimes, I'll even combine 3 or 4 oils if my skin starts acting a bit "bipolar".
2. Choose a high quality, natural foundation.
When I say high quality, I'm referring to what it's made of, not how much it cost. Just like those miracle creams, popular makeup does an excellent job with marketing but will often contain ingredients that are toxic to the body. What you want to look for instead is a product that contains natural ingredients that will actually improve your skin instead of smothering it.
There are several natural makeup lines available at health food stores, online, and even some department stores. Try sampling different brands to decide what works best for you.
As for me, after a personal consultation with Carley, I decided to try a pressed powder foundation by Mineral Fusion. I had tried other mineral makeup before and wasn't in love but I absolutely loved this powder! I didn't think I could get great coverage without a liquid but I've found it evens out the skin and covers very well. Both my daughters use it too.
I like Warm 3 (I'm very yellow/tan for a blondie) while my girls use Neutral 1 & 2 (they have lighter, cool toned skin). I usually purchase mine on Amazon but have recently noticed it at Whole Foods.
By the way, I receive no compensation of any kind for endorsing this product. It's just my honest opinion and experience trying to save you some hassle! Again, you will want to sample different kinds (liquids, powders) and brands to find the one that is just right for you!
3. Set your makeup with a hydrating mist.
Here's a little trick I learned from Carley that I use everyday. After applying all my makeup (I put my mascara on after this) lightly spray your face with a small bottle filled with filtered water and a few drops of lavender oil.
This mist will set your foundation and keep it from having that "pancake" look. The lavender helps to hydrate and refresh the skin and instead of looking so matte, you will have an instant glow.
I tend to have oily skin so I love to use oil blotting sheets to remove shine. Afterward, if I apply a touch up of powder, I will re-mist again.
You can purchase small, travel size spray bottles in plastic or glass at most stores.
Bonus Tip
Here's another little trick (not from Carley, just me) for my shiny faced friends.
If your out and about, sending Morse code from your forehead, and suddenly discover your oil blotting sheets are empty...don't stress!
Just walk yourself into a nice public restroom. In your stall you'll discover a display of paper toilet seat covers.
These paper seat covers work just like those oil blotting sheets to remove shine without removing your makeup!
Toilet paper and paper towels don't cut it. You have to go for the thin, rice paper like toilet seat cover. Crazy I know but it works! Just make sure it's not the one you already sat on…it's okay to use two.